Alerts Overview
Now, select Alerts. Since you've already added your phone number, crop and season information, it will be easy to select different thresholds for unique sites to make sure you don't miss an event in your field!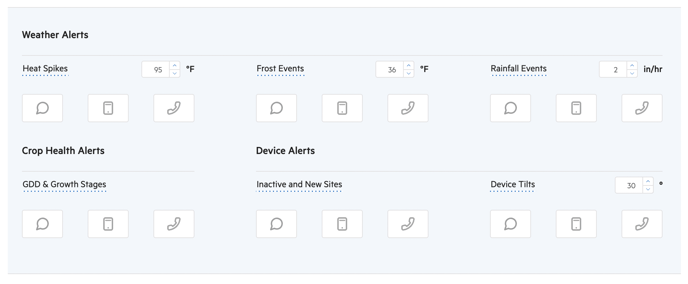 Only Org Admins can change/set the Global Alert thresholds. There are options to receive alerts on the following Parameters:
Heat Spikes
Frost Events
Precipitation Rate
Growth Stage / GDD (new growth stage transition)
Device Alerts (Tilt/Inactive)
All users can opt in to receive alerts three different ways, and will receive alerts for ALL devices assigned under their permissions:
SMS-based Text Alerts, enter phone number on Account page.
Phone Calls, enter phone number on Account page.
Push Notifications, via the mobile


ALERTS: Sites-Specific
The Alerts system defaults to Global Alerts, setting the same thresholds across Devices/Sites.
By clicking "Add Alerts for Specific Site," Org Admins will be able to set their own thresholds for specific Devices/Sites. Similarly, any user can customize the method for receiving alerts with the same mechanism.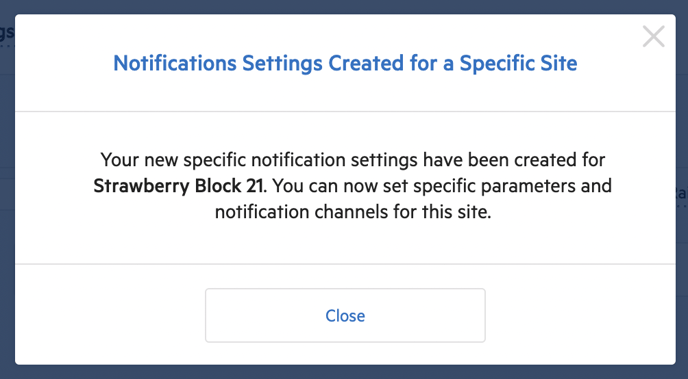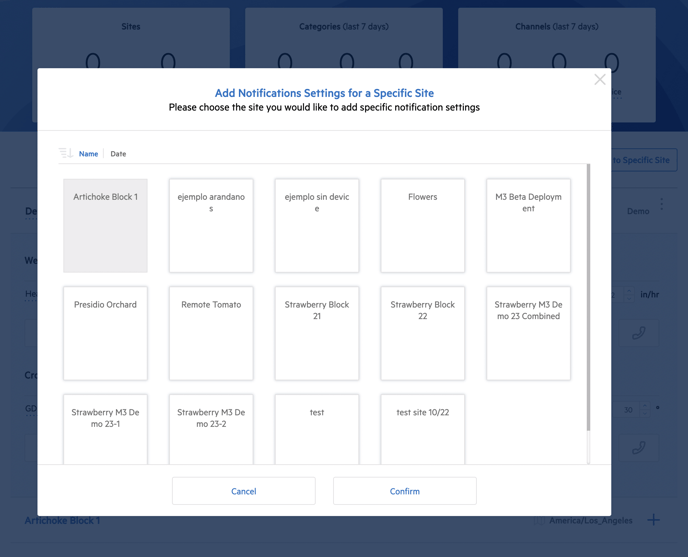 For each site, the alert settings will mirror the Global Settings as the default setting. Once a specific Site is selected, it will appear below the Global Settings (as shown for Weather Alerts on the right).
Initially, both the Parameters and Channels boxes will be checked, indicating that that Site will mirror the Global Settings by default.
To set Site-Specific Alerts, uncheck the Parameters and Channels boxes. This will allow the user to change the thresholds and select different methods for receiving the alerts.
By rechecking the Parameters and Channels boxes, the user overrides the local settings and reverts to the default Global Settings.