SEASONS: Overview
Navigate to Seasons to add details about the crop at your location. We have variety-specific growth stages that will allow for growth stage based alerting. It will also enable seasonal archives for year-over-year comparisons.
Even if a device is not deployed at a location at the start of the season, setting up a season retroactively will enable us to backfill with remotely sensed data to provide a better snapshot of the season as a whole.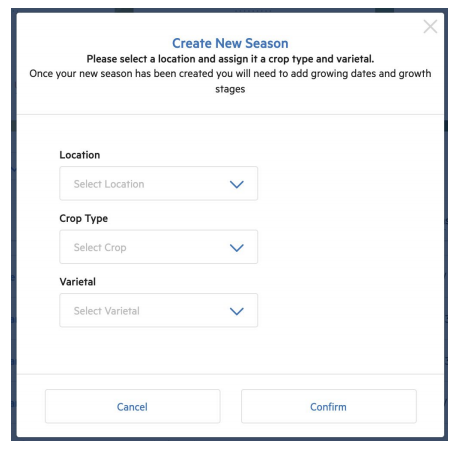 We built Arable to understand interactions between the climate and crop productivity. To maximize the benefits of the system, we encourage users to add in their Seasons and track Growth Stages.
By inputting seasonal start dates, harvest dates and growth stages, we can combine measurements to allow users to monitor water availability during critical stages, or if different fields are maturing faster.
We have pre-populated the system with a standard list of varietals and growth stages, but can easily add custom varieties, temperature thresholds and growth stages for you if you let us know.
SEASONS: Entering Growth Stages
If the standard growth stages for a Varietal does not match your specific needs or experience, you can easily add or remove growth stages yourself.
Once you enter your Varietal and Growth Stages, it's also easy to apply the same Growth Stages to multiple Devices/Locations. Make sure the Season start date is correct, even if it is in the past. Note that the absolute value of cumulative growing degree days will vary based on the preferred unit (°C or °F).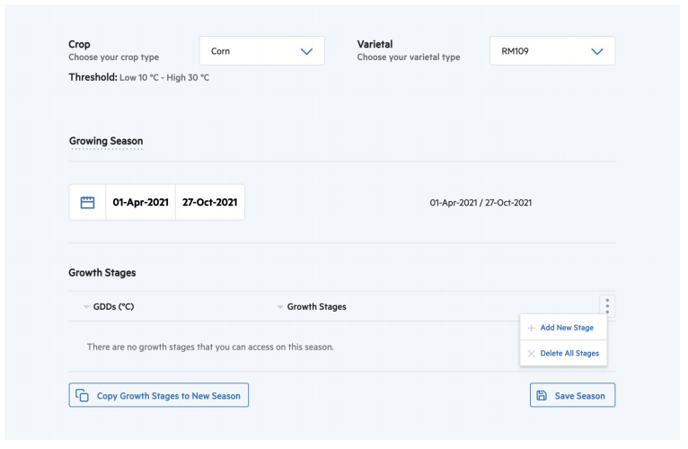 SEASONS: Understanding the Dashboard